It's that time of year again.  The time when Oracle Open World (OOW) captures the attention of the IT industry as an impressively large group of customers, vendors and industry pundits descend on San Francisco to hear the database (and more) giant's perspective on what comes next.
Admittedly, the event seems to have its own industry gravitational pull.  (At least it appears that way on my Twitter feed.)
I've been to OOW before to take it all in, but this year it was not to be.  Hitachi is there in a big way, however, with Hitachi Consulting leading the way, and with Hitachi Data Systems (HDS) right there by its side.
In fact, I just stopped watching the very interesting "Fast Data" data panel with the representatives from the Oracle Big Data team (@PaulSonderegger), Hitachi Consulting (@regnault), Penske Performance (@jgibson1974), Hitachi Automotive, Hitachi Data Systems (@pjtownsend) and some guy named Helio.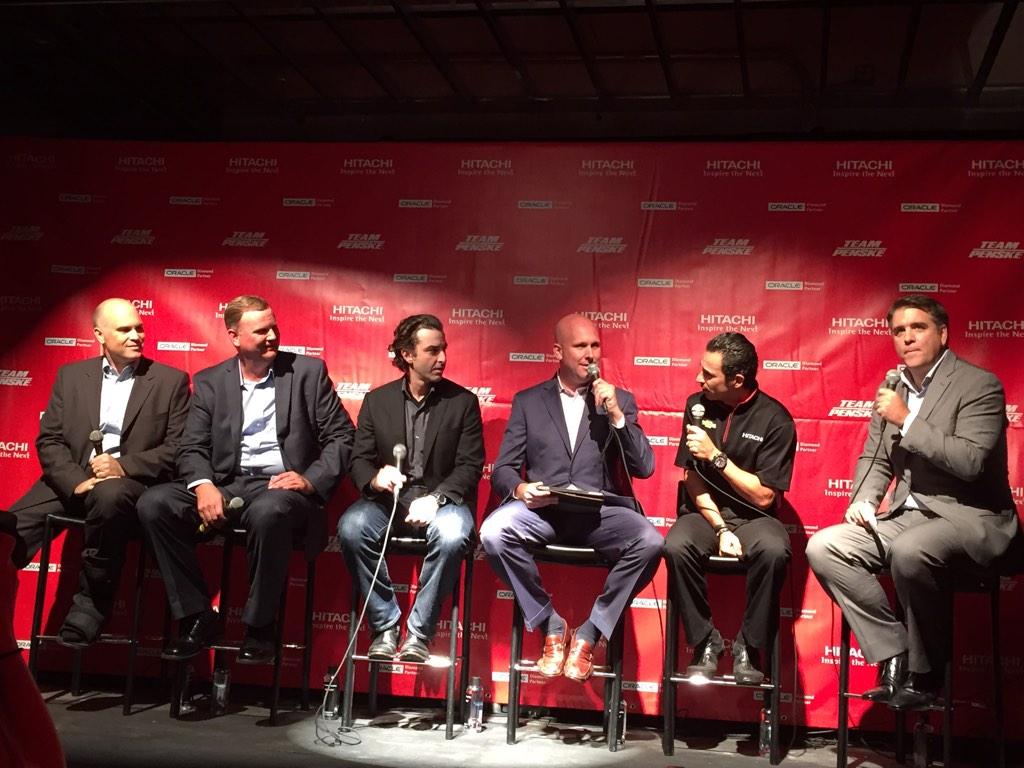 Maybe you've heard of him? Something about three Indianapolis 500 victories? Or winning some little dance show on TV?
Apparently he can make both himself and a car dance pretty darn well.
Unfortunately, despite all that driving prowess he needs to learn how to park, because his car was left smack-dab in the center of the Hitachi booth. I mean, how very inconvenient.
Anyway, the panel discussion was a very interesting talk of partnership, data analysis and how to deal with fast moving, but quite meaningful data. Plus, whatever Helio wanted to offer – both relevant (how data improves his driving, when not disproving his claims, anyway) and less than relevant (how hard it was on Dancing with the Stars.)
But let's face it, his personality is enough to carry most panel discussions all by itself.
Regardless, is but one piece of Hitachi's presence at this year's OOW, and I suspect that on Tuesday you'll be seeing some Hitachi cameo appearances in some pretty central conversations as well.
Why?  Because, aside from Hitachi Consulting's leadership position in the Oracle market, Hitachi's technology has never been more relevant than it is today.
Because, the reality is this, despite all the talk of what's NEXT for analytics, big data and storing information, Oracle's database, platform and applications are very much what's NOW. And the very same is true for the infrastructure technologies that Hitachi Data Systems provides our customers. The future of infrastructure will look very different, no doubt, but today, customers need fast, automated and trusted solutions for Oracle - not science projects. That's why so many customers trust their Oracle infrastructure to run best on Hitachi technology.
Given that, here's a quick run-down of some of the "hottest" topics HDS is engaging with Oracle customers on...
Availability.
Typically, the types of Oracle databases and application environments HDS supports are not "nice to have" environments, they are "MUST NOT FAIL" environments.  And that's where HDS shines the brightest.
No storage and converged infrastructure provider offers more-trusted solutions than HDS.  Period.
And now, with the new global-active device capabilities within the Hitachi Storage Virtualization Operating System (SVOS), we can extend our superb levels of availability past ONE bullet-proof system to two, actively synchronized storage systems, both in read/write mode, all without the complicating mess of performance-limiting appliances.
Enterprise Strategy Group reviewed the new capabilities within Hitachi SVOS and the new Hitachi Virtual Storage Platform G1000, and concluded (among many other thoughts): "Hitachi VSP G1000, bringing active-active stretch clustering, extremely simple and heterogeneous migration, as well as even more performance and capacity, is an excellent option for enterprises requiring a powerful, efficient, and flexible storage platform for their most demanding Oracle workloads."
Read more of what they found, here.
Performance.
Storage was always the most obvious bottleneck in an IO intensive application environment. Today, flash is changing this in an, umm, a flash… and Hitachi is once again leading the way. I've blogged extensively here on the HDS Community about our flash offerings and market traction, but not typically from an database or application perspective.  But that's exactly where the impact is felt.
In fact, I teamed with Randy Kerns (@rgkerns) on an HDS Webtech presentation of "How Business Transforms With Flash" where Randy really explained the reasons why and how Flash is changing IT, and I talked about how we are integrating it into our offerings and into customers' application environments.  Check it out, here.
That content, while interesting, was - by necessity - pretty high-level.  So here's some more specific performance content to chew on.  HDS has worked with Oracle performance experts Benchware to test our performance capabilities in Oracle-relevant ways. 
One example? An all-flash Hitachi Unified Storage VM (HUS VM) for Oracle databases.  This report give you all the gory detail.  It includes such data as HUS VM providing >800,000 IOPS at sub-millisecond response times and database performance at >600,000 transactions per second.
We don't think that many of the All Flash Arrays out there can come close, quite frankly. (But we hope they publish the results when they try…)
All that said, if you are like me, you'd prefer to hear Benchware's testing guru Manfred Drodz explain the testing and results, this link will take you to the recording, slides and Q/A content.
From the slide below, I think it's fair to say he was impressed.
Simplicity.
We all know that for simplicity, customers are flocking to converged systems.  Hitachi's family of Unified Compute Platforms has been growing rapidly for just this reason – and it offers multiple ways to help with Oracle and delivering the expected levels of performance and availability Hitachi is known for.
Benchware data can once again be of assistance here, as they tested our Oracle converged solution.  In this paper, they found that we offered a "very attractive alternative to other engineered systems" because of an extremely compelling price/performance ratio.
More detailed testing was done on the Hitachi Unified Compute Platform Select for Oracle Database, and all the deep performance data is found here.  Key to the findings was the realization that the system performance with Hitachi servers and all-flash storage, was fast enough to significantly reduce server resources and, thus, Oracle license fees.
That's a nice double impact, if you ask me.
Flexibility.
For Oracle database environments, one key consideration is how to deploy storage and whether to use the management advantages of NFS for certain environments.  Historically, however, NAS systems were simply not up to par for the performance of a database.
When, however, HDS can demonstrate 1.2M+ NFS operations per second in SPEC SFS benchmarking (learn more), you realize that there are more options available for high-performance deployments.
So we went ahead and built best practices for deploying Hitachi UCP with HUS VM and Hitachi NAS.  Read about it here, and you can start to think about how the Hitachi NAS features of object-based replication, capacity-efficient snapshotting and efficient directory cloning might fit in your production or test/dev environments.
Those are, indeed, hot areas for us. 
But they only scratch the surface of what HDS can bring to bear to your Oracle environment.
Fast backups via Sepaton's super-scalable purpose built backup appliances?

Operational recovery solutions via storage-based snapshots?

Policy driven tiering for maximum efficiency?
We can do all of that and more.
So stop by the Hitachi booth at OOW this week, take a look at that dancer's car… and find out how we can help your Oracle environment perform as well as he and that car do.